https://pbs.twimg.com/media/EDyQy5TXoAEPTHb.jpg
American goalkeeper Brad Friedel wrote his name in the Premier League folklore following his presence in a Premier League starting XI over the course of over seven years. Brad Friedel cemented his place amongst the best goalkeepers in the history of the Premier League when he appeared in consecutive games over the aforementioned period. He was always starting a Premier League game between May 2004 and October 2012.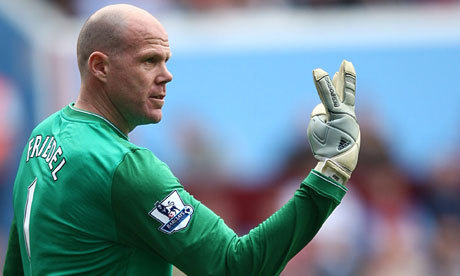 Brad Friedel missed the final two games of the 2003/04 Premier League season while he was still a Blackburn Rovers and the United States national team shot stopper never looked back until he was left out of the Tottenham Hotspur starting XI in October 2012.
Friedel missed the games against Tottenham Hotspur and Birmingham City at the end of the 2003/04 campaign while he was a Blackburn Rovers player and that was where his Premier League record run of 310 successive games started. He had the run of consecutive Premier League games until it came to an end at Spurs on October 7, 2012.
Brad Friedelspent 18 years as a Premier League goalkeeper following his transfer to Liverpool from Major League Soccer (MLS) outfit Columbus Crew. He became in a Liverpool player in 1997 and the American was at the club for three years before moving to Blackburn Rovers.
Friedel was a Blackburn Rovers player from 2000 to 2008. The American shot stopper began his run of consecutive Premier League games at Blackburn Rovers. He was involved in 290 Premier League matches at Blackburn Rovers. His eight-year spell at Ewood Park ended in the summer of 2008 when Aston Villa snapped him up. Brad Friedel was involved in all the 114Premier League games at Villa until he left the club for Spurs in 2011. He was a Spurs player for four years until the summer of 2015. The 92-cap United States goalkeeper retired from football at the end of his time with Spurs.